I think the testing is a very loving thing.
I want to put my full weight down on the faith that I have in Christ and see if it holds me up.
Here are the questions for the "faith exam":
1) Do you believe God is in control?

2) Do you believe that God is good? No matter what you see, no matter what you face?

3) Will you wait on Him by faith until the darkness become light?


God is trying to get you to the place where you pass the test, the place where you answer these questions correctly. That's a difficult process.

"I would have despaired unless I believed that I would see the goodness of the Lord in the land of the living." Psalm 27:13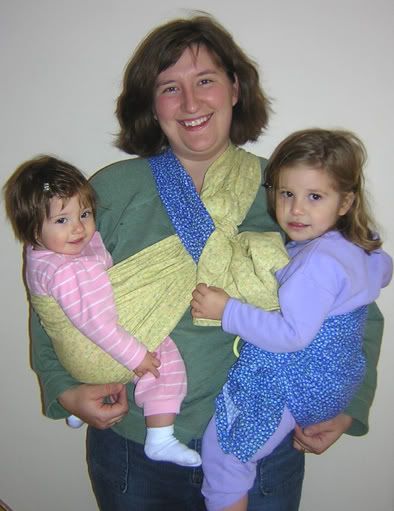 I remember the days when double-slinging a 2 year old and a 6 month old seemed like the very hardest work life could dish out. Then came baby number 3, and a mere 15 months after that, baby number 4. There have been times when even just the sheer weight of mothering has crashed through the floor of my faith and shown me how much deeper the well goes that I imagined. This analogy of faith as a floor echoes the word of the "Hall of Fame" of faith in Hebrews 11, which begins with a simple definition,
Now faith is being sure of what we hope for and certain of what we do not see
. (Hebrews 11:1; to read the whole passage,
click here
) I am still not at the place where I am sure of what I hope for, nor am I certain of what I do not see. When Amelia's life was threatened, I lost an already loved unborn child, and cancer crashed in to break the floor of my faith this autumn, deep questions returned:
Who is God? Is He really good? Am I okay with the fact that He is in control - and He is not steering me in a direction I want to go? Will the darkness ever again become light??
Yet, through that test and others that have followed, God is building new support under the floor of my faith. As He proves Himself over and over, proves Himself caring, compassionate, Holy, sacrificial, just, shows Himself as the source of life, joy, health, blessing, even healing - the new joists under those floor boards take shape. The hollow area in the center has new support. There are still holes in that support - there will be until I fully submit my mind, my body, my brain to this God who wants to be in control of every detail of my life. But the floor is stronger today for the testing He allowed this fall. I can put more weight down on my faith, and find, much to my surprise, that it bears up under the tests.

The testing I undergo now would be failed utterly and in even greater magnitude had it not been for the other tests that came before: heart problems as a teen; the loss of friendships to my own sins; lost time with family as I pursued the tarnished things of this world and hid my poor treasures from their eyes; the loss of a marriage that almost was; the loss of countless patients at work as a nurse; the struggles on the way to the altar with Aaron - the near heartbreaks and the suspense and anguish that came with it. Then marriage, and children one after another. Raising children 15-18 months apart is not easy. In fact, it may be the hardest job I've ever had. And it shaped me, and
sanctified
me.
Count it all joy, my brothers, when you meet trials of various kinds, for you know that the testing of your faith produces steadfastness. And let steadfastness have its full effect, that you may be perfect and complete, lacking in nothing
. (James 1:2-3) Steadfastness - it is from the Greek word ὑπομονή (hupomoné); which is formed by two words, ὑπό, the root for "hypo" (under or below); and μένω, which means "staying, abiding, making your dwelling or abode".
What God is creating in me is the ability to stay under, abide under, make my dwelling under these trials
, whatever their intensity, longevity, or outcome. It is not prideful to believe that following God and trusting Him, counting these trials joy, will in the end make me complete, lacking nothing. That is my goal. How far, far away it seems! How long and hard the intervening miles that stretch as far as my imagination can envision.
We all face trials and the testing of our faith, daily, hourly. What is yours right now? A baby for each arm? An illness in yourself or someone you love? The many small annoyances that sometimes just flutter around the edges of our selfishness? Inability to accomplish the task at hand? Money woes? Job in jeopardy? Competing demands on your time? A messy house?

What amazes me is that, no matter how fragile the floor of my faith, beneath spreads the incomparable, immeasurable, unplumbable deep of my Father's love and faithfulness. My faith is human, and as such, failing. His never will. On this the solid rock I stand, all other ground (my faith, my goodness, my talents, abilities, thoughts) is sinking sand. All other ground is sinking sand!

When darkness seems to hide His face,
I rest on His unchanging grace.
In every high and stormy gale,
My anchor holds within the veil.
His oath, His covenant, His blood,
Support me in the whelming flood.
When all around my soul gives way,
He then is all my Hope and Stay.

When He shall come with trumpet sound,
Oh may I then in Him be found.
Dressed in His righteousness alone,
Faultless to stand before the throne.
~ My Hope is Built,
Edward Mote, 1834*
*Bob Dylan credits this song as part of the inspiration for
"Solid Rock"
, written shortly after he converted in the late 1970's and included on his second post-conversion album,
Saved
. How about these lyrics??
It's the ways of the flesh to war against the spirit
Twenty-four hours a day you can feel it and you can hear it
Using all the devices under the sun/And He never give up 'til the battle's lost or won.
Well, I'm hangin' on to a solid rock/Made before the foundation of the world
And I won't let go, and I can't let go, won't let go
And I can't let go, won't let go, and I can't let go no more.